We are open for retail walk-in business. Our temporary business hours will be Monday-Friday 10am-3pm and Saturdays 9am-3pm.

Since we are required to be operating at 75% store capacity, our sales staff will be reduced. We will be continuing to take orders on the phone for pickup or shipment, for your convenience and social distance safety.

When you shop with us, we require that you wear a face mask and sanitize your hands upon entry, and practice social distancing while in the store. Please be courteous and allow other customers to have a safe area in which to shop.

Some classes will be starting back up in October with fewer students. We have installed plexiglass partitions, and are sanitizing equipment. Check our Current Classes for more information.

Jim, Rose and our staff at Blue Moon appreciate your patronage and support for local businesses during this tough time, and we look forward to when we can resume "business as usual"!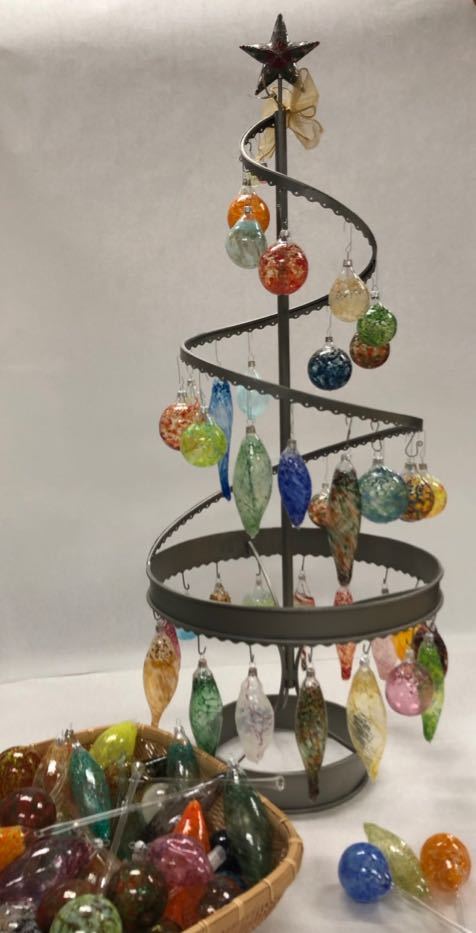 Blown Glass Ornament Classes
A Blue Moon Holiday tradition continues into it's10th year! Join us and learn how to blow German style glass ornaments in this fun, semi-private class. Due to COVID, only 4-5 students will be in each class, and we are doing fewer classes. We are also using a vent hood over the table for ventilation and have people spaced apart.

Each student receives 10 glass tubes and an assortment of colorful glass frit and glass stringers. It might take a little practice but after you have blown a few, you will end up with some lovely one-of-a-kind ornaments to keep or give as presents. After time in the kiln, your handmade ornaments will be ready to pick up the next day.

No previous experience required, but you must be at least 13 years of age (with a parent in attendance). 10 Ornaments and hangers included.

2 hour class can be setup Mondays through Saturdays, daytime and evening. Just call us at

512-380-0770

and let us know your time and/or day of the week preferences, how many people you are signing up, and we will schedule a class for you or fit you in a class with other people that want to create some holiday cheer!
Tuition: $80 per person



Cotton mask required*
*cotton masks (not disposable ones) required due to flammability issues.
The calendar of available dates fills up very fast, so call as soon as you can!
This is a class we offer year round, so if we can't get you scheduled this month, we can get you in next year!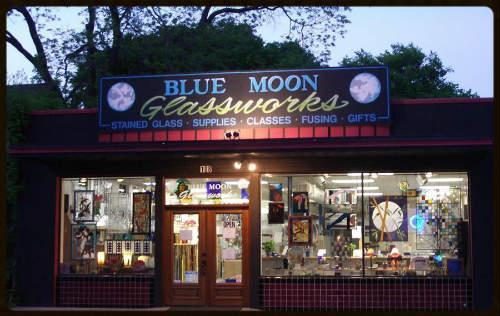 Blue Moon Glassworks is a full service retail & instructional art glass studio specializing in stained glass, glass fusing, mosaics, flameworking and jewelry. We offer classes at every skill level (beginner to advanced) that range from 1 day workshops to 6 week classes.
We have a spacious retail store that carries all the supplies, tools and glass needed to create your own beautiful works of art! Supplies include lead and zinc came, copper foils, glass cutters, mosaic tile, grout, pattern books and 77 bins of glass!!!
We provide many services including studio rental, kiln rental, stained glass repairs, and design and fabrication of custom stained glass.
We have a state-of-the-art flameworking studio complete with torches and annealing kilns. In addition, we regularly welcome internationally renowned bead artists to teach advanced techniques.
To learn more about our shop, browse through our site, give us a call, email us or just stop by and visit with us! While you are here, we have many beautiful works of glass art done by local artists for gift ideas! Jewelry, glass panels, sun catchers and more!