While we are in Stage 4, we will be open for retail walk-in business at 50% capacity.
Our temporary business hours are Monday-Friday 10am-3pm and Saturdays 9am-3pm. When you shop with us, we require that you wear a face mask properly and sanitize your hands upon entry.
We ask that you adhere to socially distanced sales practices including
only one customer/group in the glass selection area at a time, then please step back from the cutting table as we cut, weigh and wrap your glass.
We appreciate your cooperation and patience as we are still operating with reduced staff. Since we have entered Stage 4, we are starting up some of our classes, with reduced class sizes. We have a rather long wait list, so some classes might be full. Check out our Current Classes for classes that have openings.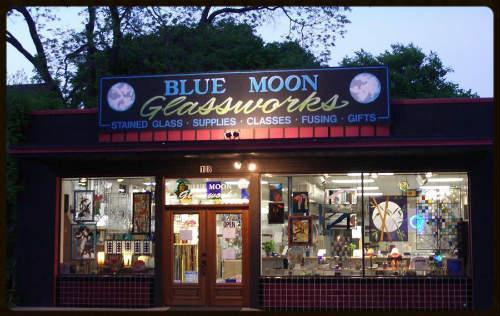 Blue Moon Glassworks is a full service retail & instructional art glass studio specializing in stained glass, glass fusing, mosaics, flameworking and jewelry. We offer classes at every skill level (beginner to advanced) that range from 1 day workshops to 6 week classes.
We have a spacious retail store that carries all the supplies, tools and glass needed to create your own beautiful works of art! Supplies include lead and zinc came, copper foils, glass cutters, mosaic tile, grout, pattern books and 77 bins of glass!!!
We provide many services including studio rental, kiln rental, stained glass repairs, and design and fabrication of custom stained glass.
We have a state-of-the-art flameworking studio complete with torches and annealing kilns. In addition, we regularly welcome internationally renowned bead artists to teach advanced techniques.
To learn more about our shop, browse through our site, give us a call, email us or just stop by and visit with us! While you are here, we have many beautiful works of glass art done by local artists for gift ideas! Jewelry, glass panels, sun catchers and more!